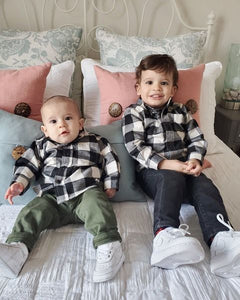 "Mom" one who sacrifices her body, sleep, social life, spending money, eating hot meals, peeing alone, patience, energy, and sanity for LOVE."
Hi guys my name is Melanie, im 27 years old and a mother of 2 under 2 years old. I know crazy right? How do I do it? The answer is I HAVE NO IDEA.
Me and my husband decided we wanted our kids close in age, but boy did we not think this through! Everyone said "it'll be easy your on the diaper and sleepless nights train already, it'll be smooth going", guys its the complete opposite! 
It's extremely hard, and of course some days are better then others but a lot of the times I'm sitting on the couch saying "how on earth am I going to tackle this day". 
A lot of the days it's me trying to soothe both babies at the same time, because although it's nice that they're close in age and will hopefully be best friends, they are also just as needy as each other. They both need just as much attention; cuddling, rocking to bed etc.
Sometimes letting loose and crying isn't a bad thing! Don't think you've been defeated because you haven't. You have to let steam go, or take 10 minutes to yourself to recollect your thoughts! And that's ok! We are all amazing mama's but we're not superheros, or made of steal!
This could be very challenging most of the times, but I forget about it all once my kids say "mama" or come give me a hug, or when my little one just want's to cuddle! Everything goes away and i forget about all the struggles I've been through that day!
It's not always negative, let's talk about some positive things as well. It's so heart filling to see them interact, hugging, kissing, or just enjoying each other's company, watching them grow together and some day being best friends (let's hope lol)
As of right now I have to take it day by day, because I'd like to think that this (motherhood) will get easier one day! But as my mother always told me "as you got older my worries grew bigger" (ohh no) motherhood, is a forever thing! 
About me:
Hey guys. My name is Melanie, and I'm 27 years old, a wife and mommy to 2 boys under the age of 2 years old! We live in Canada and have lived here our whole lives.  I love going for walks with the kids, watching movies, eating (who doesn't) and of course spending time with the family!