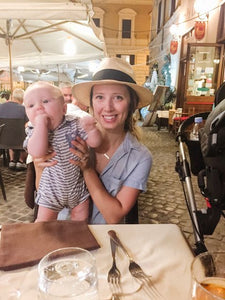 I've travelled quite a bit with the kids since they've been born. I think Colton was on like 15 flights before he was 2.5 years old and Austin 8 flights before he was 6 months old, so I feel like I've learned a thing or two about simplifying trips with kids in tow. 
Here's 12 of my top tips for international trips with a baby and a toddler. 
Bring the double stroller.

 Now obviously this does slightly depend on the type of trip you're taking, but so far, I've never regretted taking my Baby Jogger City Select double stroller. I debated it so much before we went to Europe, trying to decide if I should buy a smaller, lighter stroller and just let the boys take turns riding in it, but in the end, I brought it and it was a life saver so many times. Both boys napped in it at the airport during layovers. It also contained Colton at the airport which we needed for our sanity lol. It was also 100% necessary to have both kids in the stroller in cities like London and Rome. They are so big, with so many people; and we did so much walking, so it was a relief to be able to have the kids comfortable and contained. It was interesting getting it around on the tube in London though…of course none of the stations we used had an elevator. We made it work though! 

Bring a baby carrier.

 I brought two different carriers with me (I've got quite a few different ones haha). I brought a semi-structured one, the Phil and Teds Airlight carrier which is great for travel because it folds up super small and barely takes up any room in your suitcase (as opposed to my Ergo 360) and it also has a mesh fabric to keep you and baby cooler. I also brought my Wildbird Ring Sling, which I love when I need to put the baby up quickly or for shorter periods of time. It also takes up very little room and I always kept it on me in my diaper bag. 

Find accommodations that have crib or pack n' play rentals.

 Let's face it, as much as you try to pack light it's not easy with kids. You've got a couple suitcases, a couple kids, a big stroller, a diaper bag…the last thing you need is another thing to carry. So, my advice is to book hotels or Airbnb's that have cribs or pack n' plays available for you. If it doesn't mention it in the listing description contact the property, I've found that they'll usually find a way to get you one. 

Bring your iPad and load it up with shows.

 Obviously, I don't love being the mom who hands her kid an iPad, but on a trip, anything goes in my opinion. We download a bunch of Netflix shows for Colton before a flight and let him watch it as long as he wants. This didn't really work until he was over 2 years old. We tried using the iPad on a flight when he was 18 months old, but he had no real interest. It's also handy to have when you're in a drastically different time zone. Helps to have something to watch at 1 a.m. when you're all wide awake. 

Snacks, snacks and more snacks. 

For any kid over 6 months old, snacks can help kill time on the plane. I always bring a wide variety of both healthy options and treats. Food that takes longer to eat is always a win too, like a lollipop. You should also pack some snacks in your suitcase for when you get to your destination. We didn't get to our Rome Airbnb until after midnight local time, after about 24 hours of travelling. We were so grateful to have some food tucked away in our suitcase for our grumpy two-year-old. 

Don't over plan your days.

 In the past when I've travelled, I've always loved to plan a super full itinerary. I love seeing as much as I can and doing as much as I can when I travel. This is not the case when I travel with my kids. Trust me, Europe was very different this time around than when I've travelled there in the past. Slow and easy days, without timelines are the way to go. I find having to be somewhere at a specific time way more stressful. You never know if someone is going to sleep bad the night before, fall and scrape a knee, have an epic meltdown for no reason or need an early nap. Just plan to go with the flow as much as possible and see what you can see. Everyone will be happier for it. 

Plan stuff for you and the kids. 

I feel like a holiday with a nice mix of activities for the adults and kids is the way to go. Trust me, no kid is going to enjoy being toted around to museums and fancy restaurants all day, everyday. In Arizona for example we went hiking for us, but to the zoo for Colton. In Italy, we went to the Colosseum for us, but to a farm with animals for Colton. Honestly, seeing your kids happy and having fun is as fun as it gets. Most cities have pretty cool children's museums, or zoos, or aquariums. If your kids are a bit older, give them a couple options to research and then let them pick what they want to do!

Buy diapers and wipes there. 

Have you packed diapers and wipes for a trip yet? I have and they take up so much luggage space. And that was just with one child. Now that I have two, I literally have no room to pack that kind of stuff for them. Unless you're in the middle of nowhere you'll be able to find diapers and wipes when you're travelling. Pack enough to get you through your first day or two and then buy the rest when you're there. I like to look up the nearest supermarket before I get there so I'm not stressed about running out and having to find them. 

Backpack diaper bag. 

I find this style of diaper bag so much easier for travelling. When you're travelling you usually have more stuff with you than normal. Some toys to keep the kids entertained, drinks, snacks, cameras etc. This style of bag is just easier to tote around, especially if you have to wear your baby in a carrier at some point. I have the Freshly Picked one and I love it because its stylish and not too big. I'll be using it for travel long after it's served its purpose as my diaper bag. 

Stroller lines at airport. 

Ok, this is the best part of travelling with small kids in tow. When you have your stroller you almost always get put into a priority lane at airports. Keep your eye out for a sign mentioning stroller lanes or look for a security guard, they'll usually direct you towards one. There's been times where I swear, we've avoided an hour-long line up at security. Finally, your kids are good for something 😉.

Get Airbnb's not hotels.

 I've done both hotels and Airbnb's with kids and I can say with total confidence that Airbnb's are way easier during the baby and toddler stage. Hotels are too noisy and too small. We put Colton in the bathroom in his crib once when we stayed at the Fairmont in Scottsdale and while that helped, we still had to whisper, and it didn't prevent noisy people in the halls from waking him up. Airbnb's with separate rooms for the kids mean that after you put them to bed you still get to stay up and enjoy yourself without tiptoeing around. There's also more room for the kids to run and play, and kitchens to make some of your own meals and snacks, which I feel like is necessary with kids.  

Mindset.

 This one is huge and probably the most important item to remember if you want to enjoy travelling with a baby and toddler. Keep a positive mindset. Dreading a flight puts you on edge before you're even on a plane. Stressing about the what if's make it so that you can't enjoy the now. No doubt travelling with kids is hard, and totally different that travelling without, but if you accept that and keep a positive mindset, you'll enjoy yourself so much more. Your baby is going to cry at some point on the plane. Your toddler will meltdown at a restaurant. So what, it happens. Your kids are also going to have all new experiences, meet new people, see different cultures. They'll learn and grow, and you'll get a totally great bonding experience as a family. The pros so outweigh the cons. 
Hope you found some of my tips useful for your upcoming trips. Leave a comment if you have any questions or if you have any tips of your own. Happy travels! 
About @AlexandTribe:
Hi, I'm Alex, a lifestyle and motherhood blogger located in Edmonton, Alberta, Canada. Currently, I'm a stay-at-home mama to my two little men Colton and Austin. Thank you 18-month maternity leaves! Career me has been a communications and social media specialist for the last decade. I love living in Edmonton. We have the best food scene, small shops and events. I try my best to get out and experience the city as much as possible. Travel, fashion, food, wine and motherhood constantly inspire me and this blog is a chronicle of my escapades.