Not Just Baby Gifts - Items tagged as "Elephant"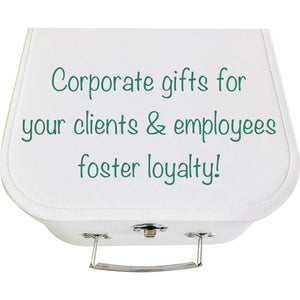 Our corporate clients have trusted us since 1997 to send our special gifts to their important clients, employees, friends and family.
Why do business with us?
Our corporate business has grown because we value each client by taking care of their gift giving needs and sending our quality gifts quickly and beautifully gift wrapped.

Priority shipping, most ship the same day at no extra fee.

Retain your client and employee loyalty for years to come. There is no better way to foster loyalty and show you care than to reward an employee or celebrate a client or employee's special life moment.  Such as the arrival of a new baby.

Our goal is to make your company's gift giving the best experience possible by making it quick, easy, including great customer service, quality gifts and complimentary gift wrap.

We tailor corporate gifts specifically to each client's preference; whether you need holiday gifts for your employees, client thank you gifts or a baby gift.  Together we finalize your gift choices & then our Cozy Gift Team does the rest.

Setting up a corporate account for immediate shipping of gifts takes minutes.

We keep all your standard company preferences on file for instant ordering by email, phone or text!
Contact, Loni Parent Loni@cozygift.com  
We would be very happy to supply corporate client reference letters upon request.
Corporate Client Testimonials 
"I just wanted to pass along how tickled one of our new moms was when she received her Cozy Gift in the mail today!  Liz called and was just gushing about the cloths and how cute they were...especially the one that said "Mason's Baby Brother"!  She said she is going to use them when she goes out in public because she wants everyone to see how special they are".  Shana R.
  
"I give Cozy Gifts for every gift, including all babies born to employees of our company, which now has over 450 people.  We have been customers for years, and have NEVER had a problem with an order--each and every one has been a huge hit.  Loni always goes above and beyond with customer service, and orders are always prompt and beautifully packaged.  And you always know the recipient will never get a duplicate!  I highly recommend for all moms/babies in your life".  Linda A.

"This is just what we need!  Thanks for everything".  Brittany M.
"We really love the baby gifts and they always make the parents (and
grandparents) happy."  Bill L.

"Got them and they look great"  Jan O.

"I received the beautiful baby gift. Thank you so much!! I can't wait to give it to the parents".  Cathy L.

"I had dinner with a client last night, he and his wife had received Cozy Gifts from me and have started ordering them for their friends, family and clients, which is exactly how I started when a friend sent them to me when my twins were born in 2003.  Nice to be part of the unofficial Cozy Gift sales team".  Mike D.    
Employee ~ Baby ~ Host ~ Coach ~Admin ~ Bridal Shower ~ Bridal Party ~ Bachlorette 
Unlimited gift possibilities, all special requests welcome!
The most popular gifts our corporate clients have ordered for years are posted below in order of popularity.